An effective SEO content strategy relies on quality content. Search engines like Google strive to provide the best possible experience for their users. It is virtually hard to achieve high ranks without great content.
To create optimum seo content strategies, a variety of criteria must be considered. To improve the performance of your quality content in search, I present seven practical steps.
The answer box has been optimized.
In the search engine results page, the Google answer box or featured snippet is an outstanding result that sticks out from the rest of the listings. Text and a link to a website typically appear in the header.
The answer box is provided by Google to assist searchers in quickly finding the answer to their question — without having to click on the result. The material is presented in various formats, including lists, tables, and a single paragraph.
When it comes to optimizing your content for the response box, two things to keep in mind are answers to frequently asked questions and correctly written. Digital Fogg Technologies helps to plan your seo content strategies.
1. Respond to specific questions.
To begin, you must first understand the questions you will be answering. A featured snippet isn't displayed for every search. When question-related words – who, what, where, when, why, and how – are used at the start of a query, many answer boxes appear.
You can see what queries your audience is asking by conducting proper keyword research. You can generate content to answer those queries once you've found those relevant curious searches.You want to provide detailed responses, but you also need to be concise. The featured snippet is a short space that responds to the searcher's query.
Include a concise explanation at the beginning or end of your article to answer why- and what-type queries.
2. Optimize the content of your list.
Listings are a popular and successful approach to gain access to the answer box. On the results page, prominent snippets for listicles display a bulleted or numbered list. They're handy for "best" and "how-to" searches. A list provides searchers with a rapid and easy-to-understand response.
Here's an example of an article with a bulleted list of digital marketing credentials: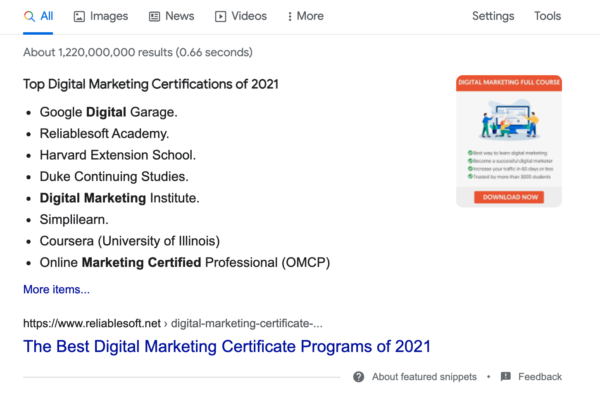 The content was optimized using some simple structure strategies to help it appear as a featured snippet. Here's how to go about it:
Make sure your headings and formatting are correct: The title's H1 tag should explain the article and, ideally, match the target query as closely as feasible. An H2 tag should be used for each step in the list.
Make use of the list element in HTML: Make the list title an H2 and each list item an H3 in this scenario. Use the HTML list element to wrap your list items (UL).
Use named anchors and the list element: Using the same procedure as before, add anchor links to each list item.
Make use of a how-to schema: A how-to schema is a type of structured data that tells Google that your content has a list in it. It also allows you to specify the steps.
If you want to optimize the keyword we help you to plan seo content strategies, Digital Fogg Technologies is one of the best and affordable company in Langley.
3. Increase the number of internal links between your important pages.
Internal links are essential for SEO and user experience. They create a website hierarchy, assist visitors in navigating the site, and distribute link juice throughout your pages. Internal links and descriptive anchor texts can help Google better comprehend what a page is about.
Internal links can also be used to highlight the context of two pages. Search engines begin to recognize that page one and page two are related. This establishes the relevance of the page. You'll want to devise a plan for incorporating contextual links into your most crucial pages – those that are focused on your important keywords. They frequently have the most backlinks from other websites. Create a list of the most essential pages based on your strategic goals. Then, by recognizing related content, establish subject clusters. The various pieces of relevant material should all connect back to the main page. This signifies that the most authoritative page is the main page.
The links report in Google Search Console is a valuable tool for tracking and managing internal links. It displays the overall number of internal links as well as the pages with the most internal links. Your most important pages will be at the top if you're following your approach. When you click on a page, a list of all the other pages that link to it appears. If you are looking for seo content strategies, Digital Fogg Technologies is one of the best and affordable company in Langley.
4. Look for stuff that has become orphaned.
Orphaned content is a page that has no internal contextual linkages to other pages on your site. Orphaned information is complex for search engines to find. It may be available via the sitemap, but not by search engines crawling the site.
As a result, orphaned pages usually do not rank well in search engines. They're also harder to find for visitors, and they attract less involvement overall.You can use a tool like Semrush or Ahrefs to look for orphaned material. Discover the most appropriate pages to link from and add a few links if you have any orphaned content.
Make it a habit to instantly add links to new posts after they've been published in the future as part of your content development process. Add that link to specific earlier posts when you publish a post to avoid it becoming orphaned.
 5. Add captions and alt text to photographs.
Improving your SEO performance can be as simple as optimizing your photos. Google considers several variables to determine the topic matter of an image and the part it plays in the content. It is one of the most crucial aspects of image alt text.
Alt-text is a written description of a picture intended to help persons who are blind or visually impaired. Google employs alt text to help it comprehend your photos and the keywords that go with them. When used correctly, alt text can help your photographs rank higher in Google Images, resulting in more quality visitors to your site.
See below some examples – good and bad – from Google:
Notice how the terrible image samples either leave the alt text blank or load it with keywords. The best example uses relevant keywords and describes the action, while the better example clearly identifies the image subject matter.
While captions don't get as much attention as photos, they should be included for all of them. They don't directly impact SEO, but they do help visitors have a better experience. When customers spend more time on your website, Google recognizes that your content is valuable.
Furthermore, search engines crawl captions, giving you another chance to include your goal keywords and make the image more relevant to essential search queries. If you are looking for seo content strategies, Digital Fogg Technologies is one of the best and affordable company in Langley.
6. Make strategic use of keywords
To assess if your material is relevant to a query, Google looks at the keywords you've provided. The titles and headings are the most critical areas to incorporate your keywords. Include them in the first several hundred words if at all possible. Many SEO professionals feel Google gives more weight to the beginning of a piece of content. (This is understandable, given that readers do as well.)
The terms that are contextually relevant to the content are referred to as related keywords. The terms baseball glove, batter, and pitcher, for example, would be related keywords if you published a piece aimed towards the phrase "how does baseball operate."
7. Make comments possible.
Many people refuse to allow comments because they believe they provide little to no SEO benefit. Others don't want to have moderate comments, which can include spam.
For several reasons, I do not advocate skipping comments. To begin with, Google officials have claimed that comments can have a good effect on SEO. It's logical. When visitors participate in the comments, their average time on site improves, showing to Google that they appreciate and value the content.
When comments are enabled, you must assume the role of moderator. Avoid publishing spammy or ineffective comments, and respond to nearly every remark your visitors make.
8. Make it easier to read and use
It's unlikely that many readers will continue with your content if it's tough to read. This can be avoided by focusing on readability. Concise and easy-to-understand ideas are communicated. Here are a few easy ways to go about it:
Use short words: It's easier to read words with fewer syllables.
Use brief sentences: Longer sentences, like words, are more challenging to read. Longer thoughts should be broken up into multiple small sentences. Keep sentences to one concept at a time.
Use simple language: Jargon should be avoided. Choose words and phrases that are easy to understand for the uninitiated.
Many readability assessors are available today that will rate your material based on how easy it is to read. Some highlight the challenging sections so you can enhance the quality of your content rapidly. Along with readability, you'll want to improve the usability of your website. On any device, visitors should be able to see and navigate your content clearly. Use components such as headers, photos, bold text, brief paragraphs, and bullet points to your advantage.
Reviewing your site's Core Web Vitals report in Google Search Console is a quick approach to verifying your pages' usability. For both desktop and mobile, each URL is given a terrible rating, requires improvement or sounds.
Google also includes instructions for resolving issues. After you've made the modifications, you can ask Google to verify that the problems have been rectified. Optimize for search and the user's experience. Your excellent content will be more likely to be seen by Google and clicked by searchers if you follow these seven suggestions. However, whether it's policing your comments area or adding alt text and captions to each image, you must be dedicated for it to pay off in higher ranks.
Are you looking for SEO company in Langley to plan your content Strategies, Click Here